Dining
Our hotel's restaurant concept primarily evokes the cuisine served by the turn-of-the-century bourgeois restaurants, while also offering a selection of fashionable international specialities. What makes our concept special is that we serve the favoured delicacies of the period in two separate ranges. In addition to a selection of dishes offering traditional Hungarian tastes, our menu also features culinary delights transformed using the most modern culinary techniques such as the Sous Vide technique.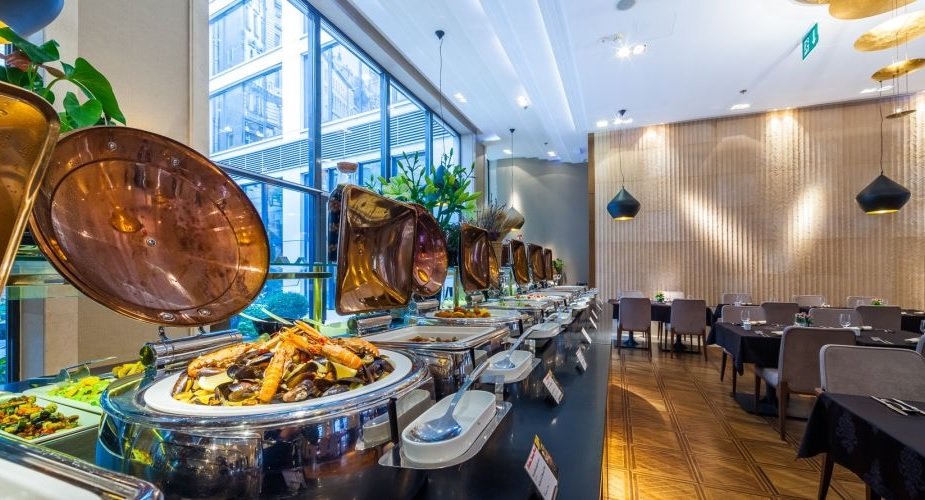 We are convinced that Hungarian gastronomy is just as much an integral part of the Hungarian culture as the country's musical past, unique language, and artistic and scientific legacy. One of the world's first fusion cuisines is the very complex Hungarian cuisine. Italian influences from the Renaissance times, and later dishes that became widespread during the period of Turkish occupation had an effect on the eating customs and favourite meals of our ancestors. A Special mention should be made of Transylvanian cuisine, which itself is a kind of fusion cuisine (since it combines Hungarian, Romanian, Transylvanian German, Armenian and Jewish dishes among others), and as Pál Kövi writes in his masterwork titled "Transylvanian Feast": "each enriched the other, and each was enriched by the other…"
The influence of French cuisine on Hungarian cooking is primarily due to József Marchal, the head chef of Emperor Napoleon III, who on his return trained such important figures of Hungarian hospitality as József C. Dobos, Ede Palkovics and Nándor Kedvessy. "Thanks to them Hungarian cuisine did not rigidly adopt the teachings of the French school of cooking. Instead they adjusted those teachings with great subtlety to the tastes of the Hungarian audience without Hungarian cuisine losing its original national character".
The culinary customs of the Germans, Croatians, Serbs, Poles, Ukrainians, Ruthenians, and Romanians who settled in Hungary during the Habsburg period and ethnic groups already present in Hungary, such as the Gypsies and the Greeks also had a significant influence on Hungarian cuisine.
The synergy of all these elements and the original meals and eating habits characteristic of certain regions together shaped the distinguishing dishes of Hungarian cuisine, which like our language, poetry, dances and national costumes need to be preserved and fostered.
It is very important that at the same time we adapt to the expectations of today.
Below are some of our key principles:
dishes prepared using fresh and natural ingredients of excellent quality and where possible local (e.g. indigenous animals – racka (a Hungarian sheep breed), Hungarian grey cattle, mangalica, domestic herbs and spices, bio vegetables),
locally produced wines and other types of drink (juices that are handcrafted or made in small-scale production)
appropriately sized portions (neither under-, nor over-sized), also providing smaller portions at lower prices
use of the most up-to-date culinary techniques and adhering to the indispensable safety rules
gluten-free dishes and dishes catering to those with food allergies
nourishing, healthy dishes
culinary cocktails,
simple, back-to-basics approach
"handcrafted" dishes, handmade dough
In addition to the above naturally our dedicated colleagues with excellent professional abilities and a conscious guest-focused approach are just as important since they assist the management in realising the above principles.
Well-qualified positive-thinking managers with the appropriate professional experience, understanding of people, and team-leading abilities are in charge of the hospitality at our hotels.